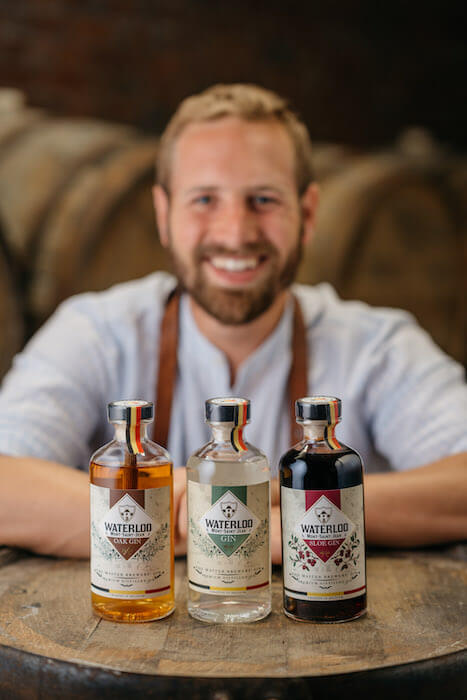 Our Gins
Gin-lovers know there are two major categories: some gins are especially spicy while others are very aromatic. In Flanders, most gins are rather spicy, thanks to the use of juniper berries, which add spicy and peppery notes. Aromatic gins, on the other hand, are generally made from more exotic ingredients that have aromas such as those of cloves or cinnamon.
The delicious Premium Gin distilled at Mont-Saint-Jean Farm is obviously 100% Belgian, although it is also very aromatic. It strikes a perfect balance between our national tradition and more exotic accents influenced by English traditions. Rooted in our history, this product combines the best qualities of both traditional gin types.
A fresh and seductive gin with distinctive notes of spices, lemon and flowers.
Aroma : the juniper berries subtly blend with a range of floral aromas such as lavender and aniseed.
Mouthfeel : a herbal and slightly spicy flavour with a finish characterised by hints of fennel and the smooth fragrance of juniper berries.
Waterloo Original Gin owes its unique character to the subtle addition of spices, flowers and juniper.


The best of two worlds: a smooth gin characterised by the sweet and succulent flavours of genuine oak wood.
Aroma : enticing fragrances of a cake shop, with sweet cocoa, vanilla and cereals.
Mouthfeel : a perfect balance between the wood's smoothness and the gin's marked character results in a sweet and bitter finish.
Sloe Gin, well-known in England, easily measures up to more traditional gins.
This liqueur is made by steeping sloe berries in Waterloo Original Gin, creating a whole new experience for gin-lovers.
This rather feminine and sweet gin has its own distinctive character.
Aroma : the sloe berries' sweetness and sugar help to soften the body of this gin, giving it an aroma of forest fruits.
Mouthfeel : the Gin itself is characterised by a certain bitterness and a rather dry note, resulting in a perfectly balanced liqueur, both in the mouth and nose.
Some drinkers prefer it straight, others like it with sparkling wine such as a Sloe Royal.